Best Automatic Dog Water Dispenser Beauty or Beast?
Beauty is in the eye of the beholder and not everyone will need this industrial level dog water dispenser and this pet fountain won't win a beauty contest soon BUT if you are living in a multiple pet household and demand an extra-large dog water dispenser, you may fall in love. This is the largest pet fountain that is easy to fill, from the kitchen water faucet or garden hose. Cleaning is simple, just pull the drain plug in the elevated dog water bowl and drain the dirt and drool. And the entire water station is easy to move rolling on 3-inch locking wheels. Roll to the water source, then back to the dog kennel. And this pet waterer won't add to your electric bill. No noisy pump or require you to buy charcoal filters to be replaced. Power outages, rolling black outs or just being home late from work is not a problem. It's quiet and gravity will ensure that your pets will have plenty of water, with or without the power grid, giving you peace of mind.
shop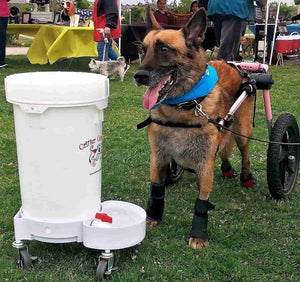 Ultimate Dog Water Fountain
---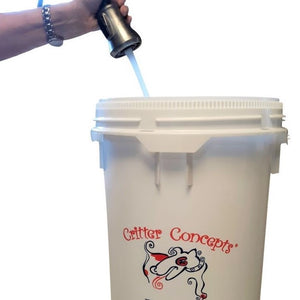 Is Your Large Dog Water Fountain Easy to Fill?
Are you still filling your furry friends' drinking water in that old 5-gallon petmate fountain? Why are you lifting that 42-pound plastic bottle? And then turn it outside down, take dead aim at the tiny hole in the stand and hopefully, with a little luck, seat the jug's neck precisely without too much spillage or cracking the plastic jug. That takes some strength and skill. And after that initial victory, how do you clean the algae from plastic bottle or gunk from the dog water bowl?
The process of successfully manipulating those old large pet water jugs is daunting or a painful challenge to dog people that are seniors or suffer from arthritis or other disabilities. The Critter Cooler automatic pet water fountain may provide the perfect solution. To replenish this water station the pet owner fills the Critter Cooler from the top. Just roll it over to the kitchen faucet or the garden hose, then back to the kennel, yard or run. Simple, and you won't stress out your back.
shop
The Best Elevated Dog Bowl is easy to Move and Clean
Water weighs 8.34 lbs. per gallon so 5 gallons = 41.71 lbs. Other large water dispensers must remain "parked" when the water level is full. Annoying if you need to re-fill, clean the floor or relocate the dog fountain. The ancient Greeks invented the wheel and we borrowed their idea for our Critter Coolers. Even our largest 6.5 Gallon water station, that weighs 55 pounds rolls effortlessly on 3 inch locking wheels.
Death, Taxes and Dirty Dog Bowls, the facts of life. Can you easily clean the dog water bowl or are you forced to wait until the water reservoir is empty? Your dog's access to a hygienic dog water bowl is key to your dog's health. Our bowls are elevated 7 inches and have drain plugs to dump the gunk, dirt and drool fast. Just turn off the valve, drain and then re-fresh the bowl with clean, healthy water fast. No water wasted.
shop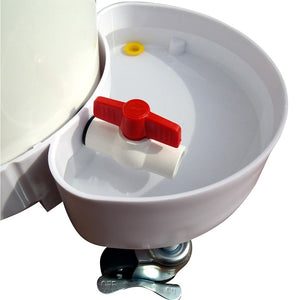 How Critter Concepts Dog Water Dispensers Help the Rescues
---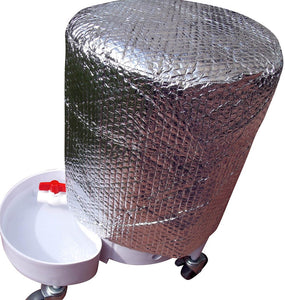 Why insulate the Dog Water Bowl from the sun?
If you live in a warm climate you may want to consider adding a thermal cover, sold separately, called the "Chiller Cover "to your Critter Cooler. This thermal cover is a 3/16-inch laminated, metalized bubble cover that reflects the sun's rays, helping keep the water container cool. Tested in 115-degree Las Vegas heat, we would freeze a gallon jug of water or a block of ice and put it into the Critter Cooler like a big ice cube in the morning. Close and cover with the "Chiller Cover". The water temperature in the bowl stays about 40 degrees all day. The dogs love it, drink more and stay hydrated and healthy. The cooler water in the bowl helps to inhibits algae growth, which thrives in warm water. Next morning rinse and repeat with a second frozen block of ice.
The "Chiller Cover" is not chew-proof so if you need a thermal cover but have "chewers" you will want to cover the Chiller cover with a Heavy-Duty cover, made of marine grade canvas and more chew resistant. It fits right over the Chiller. The Heavy-Duty Cover is also sold separately.
shop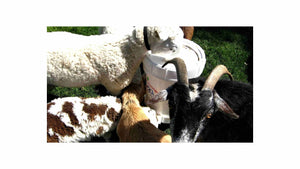 Why Invest in the Largest Automatic Dog Water Dispenser?
---